White truffle and mushroom risotto is a simple one pan dish with only twelve ingredients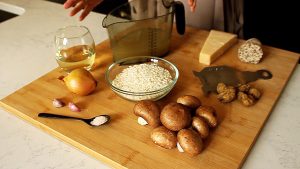 arborio rice (1 cup)
mushrooms
1 onion
garlic (1 or 2 cloves)
butter
olive oil
small glass of white wine (optional)
chicken stock (2 cups)
salt (to taste added to stock)
truffle butter ( tablespoon)
parmesan cheese (to taste)
white truffle (if available)
This recipe would serve two hungry people. It also makes a little white truffle go a long way and so is a lovely way to use truffle butter when the season has finished and fresh white truffles are just a memory on your taste buds.
I think a basic risotto is one of the first meals that young Italians learn to cook, especially students. It is a classic comfort food but also simple to master. Risotto is a real go-to recipe because it is simple to make and most of the ingredients will already be in the cupboard or fridge. Many Italians are adept at foraging and often use wild chanterelles or porcini to make a sublime risotto. The addition of truffle butter at the end and shaved truffles before serving will take this dish to another, highly impressive level. Of course you can use regular butter and extra parmesan and that will taste amazing too!
Finely chop onions and garlic and slice mushrooms.
Add a teaspoon of regular butter and a dash of olive oil to a medium pan.
Fry mushrooms fairly quickly and remove from pan.
Turn down heat and add butter and oil to pan as in step 2
Saute onions and garlic making sure they do not burn.
Add one cup of risotto rice (arborio, carnaroli etc) and cook for 2 minutes until grains are translucent.
Add wine and cook until it has absorbed. (Almost no alcohol will be left).
Gradually add salted stock to rice mixture. It should be added a little at a time ( quantity = a small ladle of stock, 2 tablespoons)
Stir rice until liquid absorbs, then add more stock. Repeat and never stop stirring.
When all of stock has been absorbed remove pan from heat.
Add truffle butter and stir vigorously into rice mixture.
Stir in some grated parmesan. Grate white truffle when dish has been plated.