The provisional programme has been announced for the Acqualagna National White Truffle Festival which will take place at the end of October and the beginning of November.
As usual, this year's festival will be held in the town centre of Acqualagna, Le Marche and will run over three weekends. Starting on Sunday 27th October, the festivities come to a close two weeks later on Sunday 10th November. Certain events and exhibitions run for the duration of the fair however there is also a programme of daily events. The culinary aspect of this year's programme comprises cooking shows, tasting, wine-pairing and workshops. There are also organised trips into the surrounding countryside, lectures, exhibitions, concerts sporting events and some historical pageantry. In short there is something for everyone. Advance booking is necessary for many of the events and the contact number is (0039) 333 1116908. Lots of events are free of charge but when this does not apply, prices are given in the description below.
Chefs
Every year the Acqualagna festival is honoured to welcome Italy's finest chefs. The chefs host a cooking show in which they create a sublime dish using fresh white truffle. The lucky guests get to share chef's secrets and then taste the end product
Among the chefs appearing this autumn are Valerio Ferri, Pietro Leeman Cristiano Tomei, Claudio Sadler , Luigi Sartini,, and Mauro Uliassi.
Permanent Events
For the duration of the festival there will be a huge truffle market. As well as truffles and truffle products there are numerous stalls offering a huge range of gastronomic specialities, truffling equipment and crafted products. This market is held in Piazza Mattei in front of the Acqualagna Truffle Museum and sprawls out into the surrounding streets. The museum itself is open from 10 am to 7 pm daily and the exhibition 'The Truffle Experience' is one of a kind. If you want to learn about truffles as opposed to just eating them, then this is the ideal place to enrich your knowledge. There really is no other place on earth with so much information about truffles under one roof. https://www.youtube.com/embed/iP5al4-4JtI
At the Archeological Museum on Corsa Roma there is a unique exhibition of photographs spanning five decades. Entitled 'Acqualagna Truffle Capital, 50 years of the Fair, History, Men, Passion', the exhibition offers a captivating insight into the role of the white truffle and truffle hunter in the town's proud history.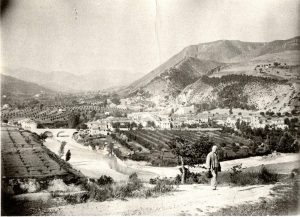 Photo Exhibition (Permanent)
Should you prefer to learn about truffles using a more hands-on method then luckily for you, there are daily truffle hunting lessons in the Park of the Republic between 10.30 and 16.30. These lessons are geared towards children and their families and are lead by expert truffle hunters from the local area.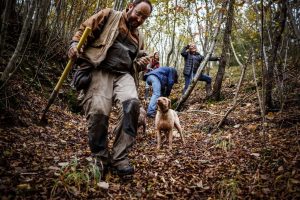 Learn how to hunt for truffles (Daily)
---
The Programme (Day by Day)
Sunday 27th October
Sunday sees the inauguration ceremony at 10:30 am. That evening at 17:30 Cristiano Tomei from L' Imbuto restaurant will be in the Taste Salon. If you would like to see Cristiano in action and sample his creation (raviolo with fermented bread and wild herbs, seasoned with seaweed butter and white truffle) the cost is 15 euros and includes tasting and wine pairing. Places will need to be pre-booked.
Friday November 1st
The three-day weekend kicks off with both the Truffle Trophy Bowling Championship and the Ducati Motorcycle rally in the morning. if you are interested in exploring the natural beauties of the local area, then a guided tour of the Furlo Dam starts at 10:30.
Try to get back in time for 12:30 when cooking blogger Rosella Errante will demonstrate her recipe of lasagne with truffles and Casciotta d'Urbino cheese. Rosella uses an innovative method cooking in a vacuum sealed jar.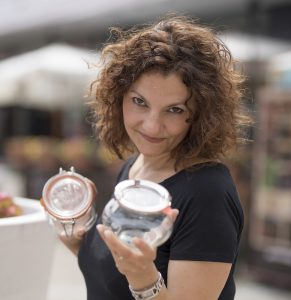 Rosella Errante 1/11/19
A master-class in pasta making followed by tasting takes place at 3pm, participation is 10 euros. If you don't know how to make homemade pasta, then it is probably time you learnt. Once you have mastered the technique, you will open all kinds of doors for exquisite stuffed pastas, delicate lasagnas and other mouth-watering delicacies.
Later on at 8 pm chef Pietro Leeman from Michelin-starred vegetarian restaurant Joia in Milan will be in the Taste Salon. Here he will inspire you by cooking fondue with diced mushrooms and truffles , Brussels sprouts , artichokes and Jerusalem artichokes stewed in butter, toasted walnuts , crispy rice and Tuscan kale wafers. Tasting and wine pairing cost 15 euros. After the show there will be a presentation of Leeman's book The code of vegetarian cuisine.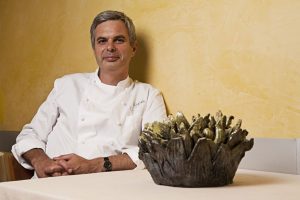 Pietro Leeman 1/11/19
There will be live Dixieland Jazz this evening in Piazza Mattei.
Saturday 2nd November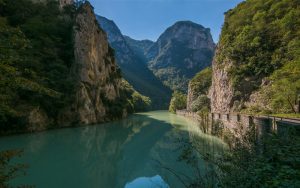 The Furlo Gorge
If you missed yesterday's trip to the Furlo Dam there is another one today starting at 10 am. In the afternoon at three o'clock there are two events to choose from. The first is the free children's cookery class 'Hands in the Dough' organised by the Professional Association of Italian Chefs.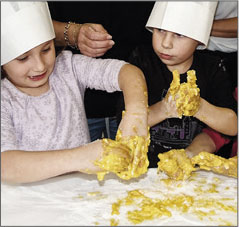 Children's cookery classes
The second event is a cooking show featuring chef Antonio Ciotola Then at 6 o'clock, the guest in the Salon is the only Michelin-starred chef in San Marino,Luigi Sartini of Ristorante Righi.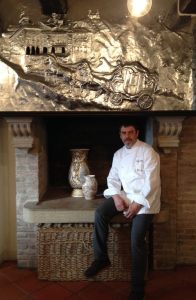 Luigi Sartini 2/11/19
At 7 pm 'Talk Show' will begin with the actor Neri Marcoré being interviewed by Lorenza Fumelli editor of 'Agrodolce' (Sweet and Sour).
Sunday November 3rd
There are several events to choose from on Sunday. At 11 am, the designer Brunello Cucinelli will be giving a talk entitled 'Beauty Will Save the World.' Then at 12 pm you have another chance to take part in a pasta-making workshop.The cost of the class is 10 euros to learn techniques that will really hone your cooking skills. Tasting follows.
At 3pm the special guest chef at the Taste Salon is Claudio Sadler from Restaurant Sadler in Milan. He will be demonstrating his own recipe
raviolone with egg yolk with raspadura, Jerusalem artichoke and truffle butter. Tasting and wine pairing will ensue and the cost is 15 €.
The second guest chef of the day is the three Michelin-starred Mauro Uliassi of Restaurant Uliassi. As yet the details of his dish are under wraps, but it promises to be a rare treat for the lucky visitors who get to watch Chef Uliassi at work and then to sample the end product. This event costs 40 €.
Saturday November 9th
The final weekend of the festival begins on Saturday at 9am with the 1st Truffle Challenge, a historic archery tournament.
Then at 3pm head to the Taste Salon for the event 'Best of the Apps'. The event begins with talks about thr 2016 earthquakes that devastated many regions of the Apennines. The focus will be the effects the disaster had on small local producers. The talks will be followed by 'Taste of the Apennines' a tasting of local products such as Maiale Brado di Norcia.
Maiale Brado di Norcia 9/11/19
Also in the afternoon at 3pm is the children's cooking class 'Hands in the Dough'. Then at 6 o'clock Max Mariola from Gambero Rosso Channel
will be in the tasting salon creating his recipe – Club sandwich with fresh black truffle mayonnaise, steamed cod, braised endive and stracciatella. There will be subsequent tasting, drinking and readings from the book Vini Veri, Journey into the senses.
The evening ends with a live concert by the group Karta Karbone in Piazza Mattei
Sunday 10th November
At 12.30 watch Chef Valerio Ferri from Restaurant Le Fontane in action. He will be making maltagliati of polenta and white truffle.
Cost 10 € including tasting and wine-pairing
The final pasta lesson of the festival starts at 3pm, again the cost is 10 euros.
The last cooking show in the Taste Salon will be hosted by Giorgio Barchiesi from Gambero Rosso Channel who will demonstrate his recipe – potato gnocchi with Casciotta d'Urbino and white truffle
This costs € 15.
This year's festival looks set to be the best yet so I do hope to see you there. For further information regarding the fair and other topics such as accommodation in the area, contact the Acqualagna Tourist Board