Join us in the kitchen where we make the most delicious truffle paste with 1.5 kilos of black summer truffle (Tuber Aestivum Vitt)
In the middle of July, the black summer truffle is at its peak and found in abundance in forests across the Mediterranean region. Eating tuber aestivum can be disappointing especially if it is not fully mature. Although it cannot compare to the strong flavour of the winter truffles it does have its own merits and can more than hold its own in the kitchen. It keeps better than the white truffle, it is far more affordable and has a delectable earthy taste which though more subtle than the white and black winter truffles will leave you craving for more. The summer truffle is also far more versatile. It can be gently cooked (unlike the white truffle) which allows you to experiment and to enjoy the pairing of a wider variety of ingredients.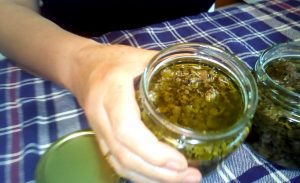 One such amazing combination is the Roman dish of black truffle with artichoke and this has become a definite favourite
Black truffles are divided into two categories. This categorization is not based on taste but on size and appearance.
The A grade truffles must be
These truffles look perfect. Undersized truffles will be graded 'B'. So will larger truffles which are not completely intact (truffles often break as they are being unearthed or are scratched by enthusiastic dogs). The superior, more aesthetically pleasing 'A' truffles invariably end up being shaved over the finished plate in restaurants. However chefs might use 'B'  truffles in the preparation of the dish. These 'seconds' are also used in high quality natural truffle products.
As we have had a plethora of B grade truffles this last week I decided to make a large batch of truffle paste. Make this simple sauce if you would like to stretch out your truffles. It couldn't be easier as the paste is made with minimal equipment and just 3 or 4 ingredients. Truffle paste keeps for months in the fridge and can be used in dozens of ways from marinades to topping a bruschetta.
How to make black truffle paste
Ingredients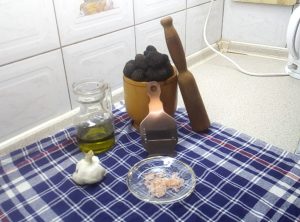 There are no precise weights or quantities, you have to play it by ear and create the paste according to your own taste. Here I used  1.5 kilos of truffle and around 250 ml of olive oil. Then I seasoned with just under a teaspoon of coarse Himalayan salt and a large clove of grated garlic.
Equipment
Mortar and pestle or a multi-chopper or blender.
Truffle mandolin or a regular grater.
Sterilized jar/s and top/s. (You can put the jar in a pot of boiling water for  minute or so, remove and drain upside down on a clean towel. Make sure the top for your jar is a new one).
Method
Grate or shave the truffles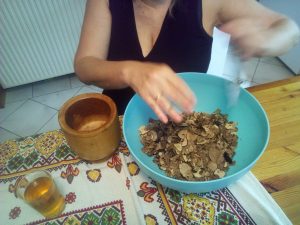 Transfer the truffle shavings into the mortar and pound them into a paste. This is thirsty work and rather violent so you might need to drink a cold beer on the job.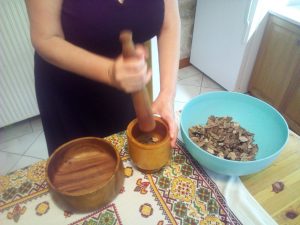 As  you are pulverizing your truffles you should add the olive oil little by little. Season too as you go along.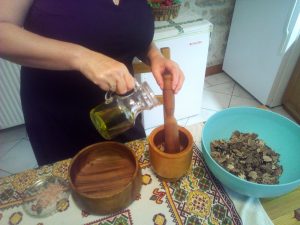 I also pummelled a clove of garlic in the mortar – just enough to give the paste a subtle garlic flavour. When I am actually using the paste I will put a bit more garlic in if the dish requires it. The same applies to the salt, I tend not to go overboard and use just enough to enhance the truffle flavour. As for the oil, the consistency of the paste should be loose and the truffle and oil should be well mixed. Try to blend to the point where the mixture is spreadable.
The final stage is to spoon the paste into jars. Press the mixture down into the jar so there are no air pockets. Cover with more olive oil and tightly screw on the lid. Keep in the fridge.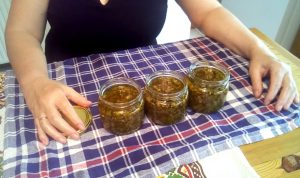 There are so many ways to enjoy this paste that I will leave that for a separate post.
Here is a teaser. This is my brother's Black Widow Chicken.